EXPLODE THE TV'S FRONTMAN RELEASES SOLO ALBUM
Bentley Browning releases 80's/90's guitar pop album with indietronica vibes.
An album written and recorded over the pandemic which included the passing of both Bentley's parents.
A brooding and bruising collection of songs with an over riding optimism seeping through.
Here's a track by track word from Bentley.
SUNSHINE MIND
In my band (Explode The TV) i didn't play guitar so sitting down during lockdown i started learning some more chords. I wanted to write an Oasis style non sensical lyric but it came out much more philosphical than I thought. I wanted to start the record with an upbeat positive song".
NOW IT'S TIME TO KNOW
When you are waiting for a relationship to get a green light/red light or continue in a fug of doubt. The lyrics speak for themselves. This was originally an idea written with my brother J (Caffeine guitarist).
Max Macdonald my guitarist adapted the riffs and I kept the vocal more or less the same. To me it's come out quite New Order-ish with a big chorus.
TOO MANY TEARS
It's about that moment the tears start and never stop. You know there's a message in the tears but you struggle to find meaning in them. Being in 3/4 it was murder to sing in time for me… but i think i have it sorted now….nearly.
YOU CAN'T MAKE SOMEBODY LOVE YOU
For me the most painful expression on the record.
An unrequited love song. However much you try-sometimes it is impossible-which very much leads to the next song lyric-let go.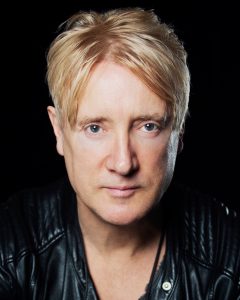 LET GO LET GOD
A complete reworking of a song I wrote in the 90's in a band called 27-I wanted a jubilant feel with a kind of rush of adrenaline.
PRELUDE
Max the guitarist is a real blues fan and he is also able to provide soundscape layers when required. There had to be a moment on the album which featured him alone. I like this alot-reminds me of Pink Floyd.
I'M NOT SPENDING SUMMER ALONE
Written by Max and I at Westbourne Studios in London-it took a lot of work-but i like the lyric-"Making videos on TikTok and all you have is Joe Exotic"-which sums up my banal lockdown experience.
DON'T WATCH THE NEWS
Probably my favorite track on the album and easily the rockiest one. My mental health was being affected by the mainstream news which even though i don't watch on TV still seeped through on the radio channels i listen to.
NO ONES LEFT A TRACE LIKE YOU BEFORE
Yet another love song. Period. Knowing it's a friendship and standing on the edge of what may or may not be. Henry the producer added the key sound on the chorus which transformed the track.
KISS INSIDE
A track about how the unforgettable time i started to believe in God. I love singing the pre chorus particularly.
I CAN FEEL YOU IN MY BLOOD
Written after my Dad passed away. His legacy lives on in my heart.
SONNET
I saw a clip of Max playing a Suede song when I was looking for a guitarist. I was very surprised as I had only known him when he was putting comedy nights together at a church. After meeting we shared a love of The Verve-especially the first album. Max had been working on Urban Hymn's Sonnet for a while so we recorded it. It was a great way for us to bond and it's a killer song. As much as recording classic songs is a risk. I'm so glad we did it.
Find Bentley Browning on YouTube, Instagram & Twitter.
Media Contact:
Artist Name: Bentley Browning
Website: www.bentleybrowning.com